Fix Roblox Error 103
Usually related to parental controls!
Has this article answered your question?
Tell us about your article reading experience.
If you're reading this guide, chances are, you're experiencing error 103 on Roblox and need a fix. If so, then we've got some good news and some bad news.
The bad news: You've got a Roblox error. Using time you could be spending playing Roblox to fix a problem is never good!
The good news: You've got Roblox error 103. It's usually super easy to fix! (and you're reading the best guide on the internet to do that, of course!)
Below we have listed out the most common causes of this error and how to fix them. Go through the list from first-to-last as they are ordered by the most common cause/fix to the least likely (so starting at the bottom or mid-way through would probably take longer).
Date of Birth
If the Roblox account you have linked to your Xbox One has a date of birth resulting in an age younger than 13, then this is likely the cause of your problem.
If your date of birth is for an age younger than 13, you will need to create a new Roblox account with the correct date of birth. Due to COPPA regulations (US law), Roblox cannot change the age on an account that is younger than 13, so your only option is to create a new account.
You can check the date of for your Roblox account within your account settings (requires a phone, tablet, laptop or computer). It will be displayed under Birthday. For help accessing account settings see below:
To open account settings on the Roblox website (browser or computer), log in to your account on roblox.com and click the cog ( ) in the top right of the screen and then click Settings: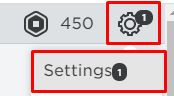 To open account settings on the Roblox app (iPhone, Android or tablet), click the ellipsis ( ) icon in the bottom right and then click Settings, and then Account Info.
Parental Controls
If you are using a child account on Xbox to play Roblox, it is likely that the Xbox (not Roblox) parental or privacy controls are preventing connection to the game.
You can check and resolve this problem by changing the See content other people make setting to Allow. To do this:
Sign into the parent account on your Xbox One.
Select My games & apps from the dashboard.
Select Settings.
Scroll to the Family tab.
Select the child account that you are trying to play Roblox on (and having problems with).
Select Custom under the Privacy menu.
Change See content other people make to Allow.
After saving these changes, error 103 should be fixed when your child's account tries to play a Roblox game. If not, continue on to the next step.
Hard Reboot Xbox
If you're getting this error on an Xbox One, you might be able to fix it by performing a "Hard Reboot". This is a slightly more technical way to say "try turning it off and on again". To perform a hard reboot:
Hold the console power button for 8-12 seconds until the device powers off
Turn it back on
After doing this, try to join the Roblox game again. If it doesn't work, continue on to the next step.
Game Not Supported
If you have checked your date of birth, the parental controls for the account, and rebooted your Xbox, then the case is most likely that the game you are trying to play is not supported on Xbox.
Unfortunately there is no fix that works for everyone at the current moment in time, but here are some recommendations:
Check to see if the game you're trying to play has a console version. Phantom Forces, for example, has a specific console edition that is separate to the main Phantom Forces game.
If this isn't the case, until the game adds support for consoles, you will need to play the game on your phone, tablet, computer, or laptop instead.