Fix Roblox Error 106
Make sure your friend is your Roblox friend!
Has this article answered your question?
Tell us about your article reading experience.
Roblox error 106 is a great error to have because, unlike some other Roblox errors, it's very easy to fix!
There is almost always one cause: the friend you are trying to join the server of isn't on both your Roblox and your Xbox friends list.
To fix this error, you need to add you the player you are trying to join the session of as a friend on Roblox. For help doing this, see below:
Sign into your Roblox account at roblox.com on a computer, laptop, mobile or tablet.
Then, type the Roblox username of your friend into the search box at the top of the screen. On mobile, click the search icon ( ) to bring this up. Once you have typed your friend's Roblox username into the search box, click Search "" in Players. Here is an example for the username builderman:

On the search results page, find your friend's Roblox profile and click Add Friend: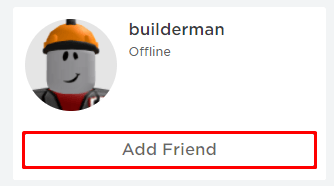 Now, ask your friend to accept your Roblox friend request.
Provided you are both already friends on Xbox, error 106 should now be fixed and you should be able to join your friend's session!