2Plr Combat Mining Tycoon Codes
All current and previous game codes for 2Plr Combat Mining Tycoon on Roblox.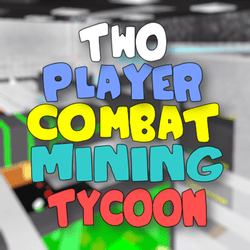 This code credits your account with 1,000 Cash.
| Code | Description | Status | Works |
| --- | --- | --- | --- |
| | This code credits your account with 1,000 Cash. | Active | |
How to Use Codes in 2Plr Combat Mining Tycoon
To use codes in 2Plr Combat Mining Tycoon, first click on the cog button at the left side of the screen:

Then, type your code into the [Enter Code] box and press the enter key:

About 2Plr Combat Mining Tycoon
Join forces with a friend or another player, and start building your very own weapons empire from the ground up! Begin by creating a few sources of income for your characters within your own plot of land, and increase the rate at which you earn cash to be able to upgrade your building faster. Create and improve your fortress with walls, windows and defenses, and also create weapons rooms to arm yourself against any intruders.
If you're feeling particularly daring, you can arm yourself with your newly-acquired weapons and plan an assault against other fortresses nearby in the hopes of earning new loot and weapons. Purchase more and more floors for your base and become the most feared team in the game!