Darkenmoor Codes
All current and previous game codes for Darkenmoor on Roblox.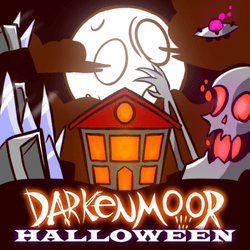 This code credits your account with 250 Cogs.
| Code | Description | Status | Works |
| --- | --- | --- | --- |
| | This code credits your account with 250 Cogs. | Active | |
How to Use Codes in Darkenmoor
To use codes in Darkenmoor, first click on the Twitter icon at the left side of the screen: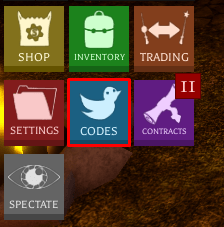 Then, type your code into the blank box and click SUBMIT: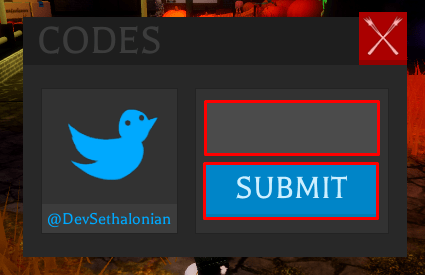 About Darkenmoor
Put your life at risk in Darkenmoor, a game where you must team up with others players and survive the night whilst a blood-thirsty beast slowly hunts you down. Stranded in a haunted manor in the dead of night, you must wait out the timer and survive, or take the beast down in the meantime in order to win the round as a survivor. Advance the timer by finding clocks around the map, and also collect coins which can be spent in the in-game shop to upgrade your perks and your weapons.
You might also be chosen to become the beast for some rounds - your task here is then to take out any players that get in your way and make sure that no one survives the night. With a wide selection of different beast types with varied abilities to be chosen from, you will always be facing something new each round!