How Much is the Headless Horseman on Roblox?
It's hard to get your head around!
Has this article answered your question?
Tell us about your article reading experience.
An item that has been favourited over one million times on the Roblox shop, the Headless Horseman is certainly one of the most famous bundles within the Roblox community. If you're not sure what it looks like, here's a picture: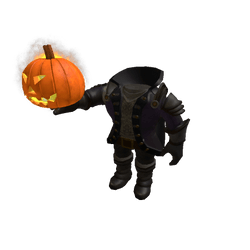 Released on October 31st 2013 and subsequently removed on November 3rd of the same year, the bundle originally sold for 31,000 Robux.
The item later returned in mid October of the following year, sparking the tradition of the bundle returning for Halloween every year after. The only times where the bundle was discounted were during the Memorial Day sales of 2015 and 2016, where it was sold for 24,800 Robux instead of the regular 31,000. It was last available for purchase on the Roblox store during October 2022.
So, why is the bundle so expensive?
Consisting of a set of legs, arms, torso, and head, the Headless Horseman doesn't seem much bang for your buck when taking into account the 31,000 Robux price tag. However, the head included in the bundle is virtually invisible, measuring 343 cubic millistuds (a very small number!). This means when your head is equipped, even without using the rest of the items within the bundle, your avatar will appear to be headless! This unique property has brought many to purchasing the bundle, and consequently allowed the price to remain at such a high amount.