How to Block or Unblock Someone on Roblox
Ignore (or Unignore) Other Players!
Has this article answered your question?
Tell us about your article reading experience.
As useful as Roblox's communication system may be, sometimes you can't help but come across some particularly annoying users. Whether it be a random player, bot, or just someone you don't want to speak to, Roblox's block feature has got you covered. Blocking players will prevent them from communicating with you in any way whatsoever, meaning you can continue to go about your Roblox business uninterrupted!
How to Block and Unblock Someone on Desktop (Browser)
To block someone on Roblox when using a browser on desktop, first head over to their Roblox profile. This can be done by using the search bar at the top of the Roblox page. For example, if you wanted to block player cripto162, you would type their name into the search bar, and then click the cripto162 in People button: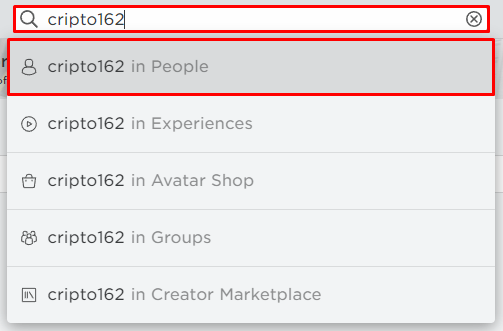 Next, click on their profile: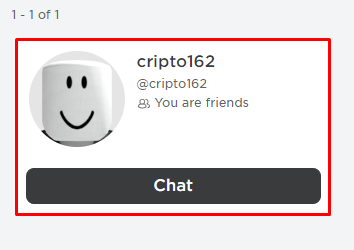 Next, click on the three dots button at the top right corner of their profile:

Next, all you'll need to do now is click Block User: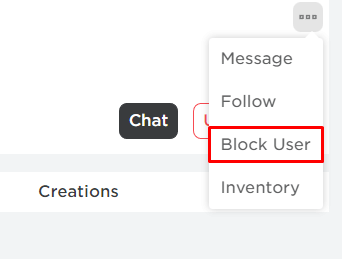 If you've had a change of heart and want the player unblocked, first head back to the player's profile. Next, click on the three dots button like before, however this time click Unblock User: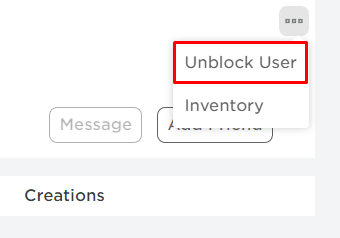 How to Block and Unblock Someone on Desktop (In-Game)
If you're playing your favourite experience and don't quite have the time to open your browser, you'll also be able to block someone whilst in-game. To do this, first head over to the in-game player list, found at the top right corner of your screen: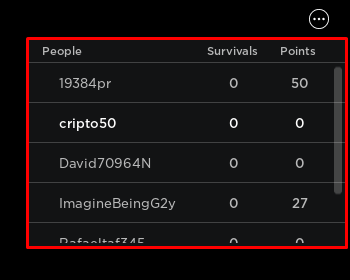 Next, click on the player that you want to block. For example, if you wanted to block player 19384pr, you would first click on their name: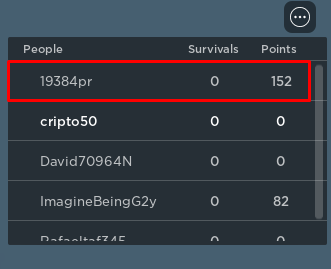 Then click on the Block button: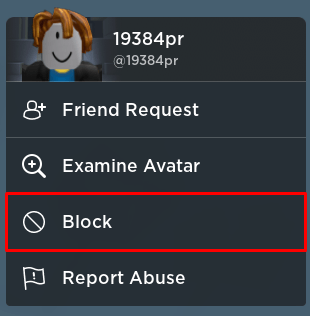 To unblock someone when in-game, first head back to the in-game player list, and click on the player you want to unblock like before. Next, all you'll have to do is click Unblock: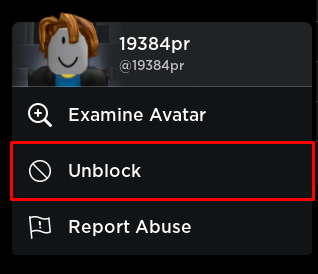 How to Block and Unblock Someone on Mobile (App)
To block someone using the Roblox app on mobile, first head over to their profile. This can be done by using the search bar at the top of the home page. For example, if you wanted to block player cripto162, you would type their name into the search bar, and then tap your phone's search button:

Next, tap on the People button:

Next, tap on their profile: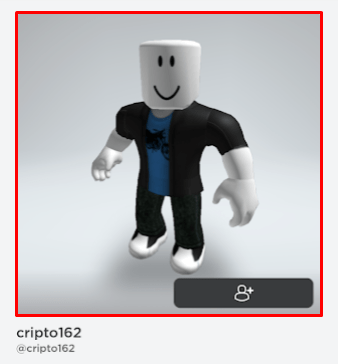 Next, tap the three dots button at the bottom of their profile:

Next, all you'll need to do is tap the Block button: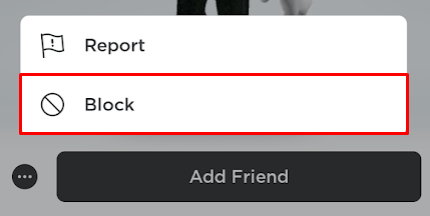 To unblock someone on Roblox's mobile app, head back to the user's profile, and then tap the Unblock button at the bottom of the page:

How to Block and Unblock Someone on Mobile (In-Game)
To block someone when in-game on mobile, first click on the Roblox icon at the top left corner of the screen:

Next, find the player you want to block on the in-game player list, and then click on the banned icon next to their name. For example, if you wanted to block player djagernayt777, you would click on this button:

Next, click on the Block button: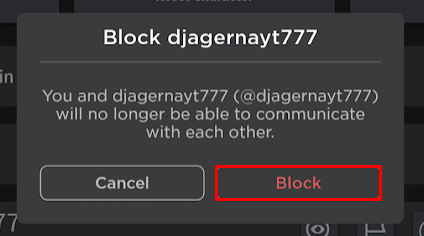 To unblock someone when in-game on mobile, find the player you want to unblock on the in-game player list, and then click Unblock: