Rover the Astro-Pup
How to Obtain and Item Information
How to Obtain
Find out how to claim Rover the Astro-Pup in Roblox
Join the Galactic Speedway Creator Challenge by clicking the button below and clicking the play ( ) button:

Visit Creator Challenge

Complete Lesson 3 to receive this item. For help and answers, see the guide below:
Creator Challenge Questions
So others can play, a game needs to be set to:
Public
A variable is:
A placeholder for information that can be updated as needed
Roblox Studio scripts use which programming language:
Lua
Once you upload a model to Roblox, what is one of the benefits you get?
All of the above
What variable changes how fast a driftspeeder can go?
DefaultSpeed
After making a code change, you should:
Playtest to see if your code works correctly
For DefaultSpeed, which number might cause issues for your speeder in-game?
5000
What's the name of the script with variables that control a driftspeeder?
Settings
More Information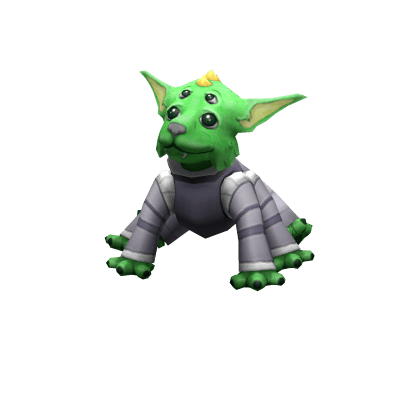 Finally, an end to the argument of what the cutest shoulder pet in Roblox is. How can you get cuter than this intergalactic pup with four eyes and six legs?
| | |
| --- | --- |
| Released | 31st January 2020 |
| Asset ID | 4504380371 |