How to Get No Face in Roblox
Spook your friends!
Has this article answered your question?
Tell us about your article reading experience.
Whether it be for halloween, to change up your appearance, or simply to scare your friends, having no face in Roblox is a great way to show off your avatar-editing skills. There are also numerous different ways to do so, which means you'll be able to choose the method that suits you the best. This guide will take you through the different options available for you to try out!
Method 1: The Headless Horseman
Taking the spot of the most expensive option on this list, The Headless Horseman is probably one of the most famous ways to achieve a headless appearance on Roblox. Although it takes going "faceless" to a whole new level, it will no doubt spice up your avatar and be sure to spook and confuse your friends.
Unfortunately, you'll only be able to purchase this item at select times close to Halloween. When it's up for sale, you'll need to visit the Roblox shop to purchase the item, or visit the store page found here. If you're looking for more information about the Headless Horseman, be sure to check out our very own guide found here.
Method 2: Faceless Heads
A cheaper option for those going for the faceless head look is to purchase, surprisingly, a faceless head. With hundreds of different options, colours and prices to pick from, you'll be sure to find a head that suits your avatar the best.
To start browsing, simply search for "faceless" head in the Roblox search bar, and then click on the Avatar Shop option: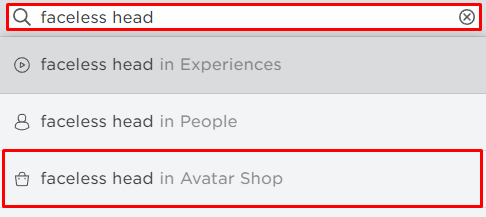 Alternatively, you can visit here to browse the current faceless head options.
Once you've purchased a faceless head, you'll next need to equip it in your avatar editor. To do this, first click on the Avatar button at the left side of the Roblox page: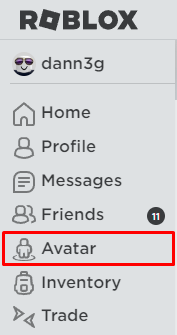 Next, locate the faceless head you want to use in your inventory, and then left click it to equip it: